Articles Index - About Us
---
Atlantis
by Bonnie & Roger Riga
There are very few places on Earth and even out of it that don't have stamps. Many, of course, are as bogus as the country of issue. That makes them a cinderella and it also makes them fun to collect. One such dubious country of origin is Atlantis.
The story is that in the 1930's a group of Scandinavian adventurers settled in the West Indies to investigate the legend of lost Atlantis. The group soon adopted a flag, banknotes (in skalogs, 100 of which made a Dalo), stamps, and even passports. Robert W. Murch in the Philatelic Congress Book of 1957 attributes the stamps produced to Captain J. L. Mott with the aid of a Miami, Florida, collector and dealer, Douglas P. Ball.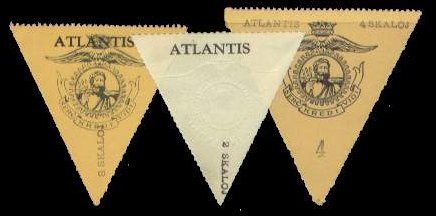 Five issues and an unadopted essay were produced, but only the first two issues are seen with any regularity. The first issue appeared in about 1934. It was shaped as an inverted triangle with rouletted separations. It featured a Neptune figure in a circular crest with "Atlantis" and the denomination at the top in a typewriter-like script. Three values - the 2 sk. And 3 sk. black on cream and the 7 sk. black on orange - are known, but there could be more. The Neptune crest is seen as colorless embossing or printed in black.
The more common issue is the second which came in six values, perf 11 1/2 or imperf. All are shaped like a definitive stamps and feature a portrait of Princess Marie in the center in black. They were issued in 1935. The paper is usually a lighter color of the stamps, but one value is red on cream. Some of the stamps were used as "provisionals" by overprinting "Y Mu" or "Lemuria" and sometimes blacking out the value, with or without the overprints.
A third issue was imperf as were the next two issues, all done in 1938. The third issue was a larger format in three different 75 sk. designs. The fourth issue was a 3 sk horizontal format in black and white. The fifth issue was a single Airmail stamp in a 5 Dalo denomination. All are known to exist on covers, usually with Nassau, Bahamas cancels. There were, of course, cancellations from Atlantis and several of its cities.
Atlantis may have existed only in the minds of the group of Scandinavians in the West Indies, but thanks to their sense of whimsey over eighty years ago, we can collect the stamps of the lost empire today. Isn't philately fun?
---
The following images provided by collector and friend, Donald Avery shed more light on the story.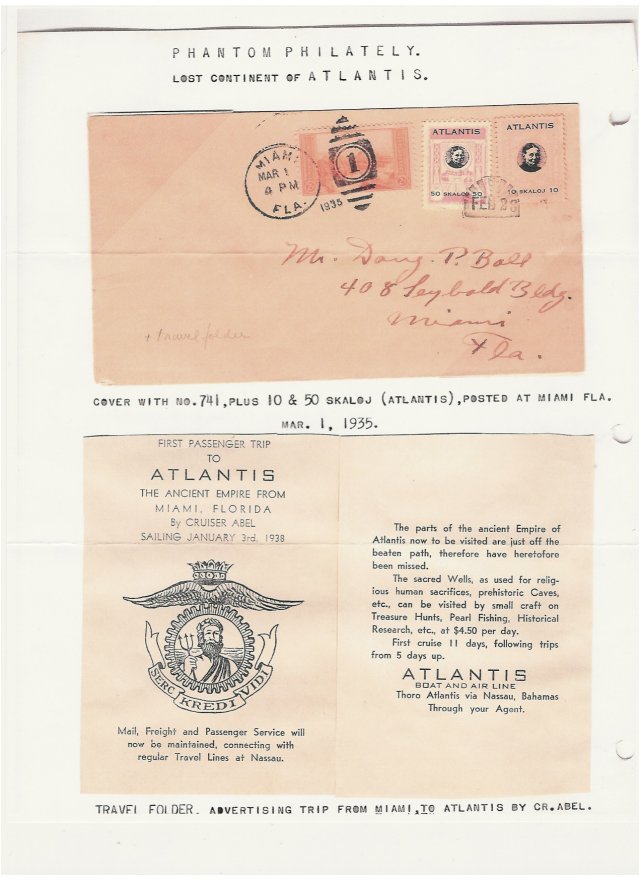 ---
This column first appeared in Scott Stamp Monthly and has been edited for online presentation.
This page was last updated July 7, 2016.
Copyright &copy 1997-2016 by Rigastamps.All rights reserved.